Experience your phone calls and music with quality audio performance and a comfortable, in-ear fit. Answer calls easily with a convenient answer/end button. Compatible with today's most popular music phones.
Talk.
Now it's easier than ever to talk on your mobile phone and enjoy music with Bose audio performance. The Bose mobile in-ear headset features a convenient inline microphone and answer/end button that lets you take calls with one-touch ease.
Listen.
With all your favorite music now available on your phone, shouldn't you enjoy it with sound that's clear and realistic? The Bose mobile in-ear headset delivers high quality Bose sound-the best reason yet to listen to music on your phone.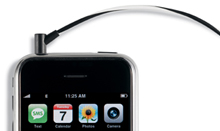 Enjoy.
You can wear this headset comfortably for extended periods of time. Three sizes of soft silicone ear tips are included so you can tailor a fit that's right for you. Unlike most earbuds, these naturally contoured tips are designed to let the headphones sit gently in the outer bowl of the ear, not the ear canal.
How enjoyable can your phone be? Try it with the Bose mobile in-ear headset, and experience the difference Bose technology makes.
Shop Now>